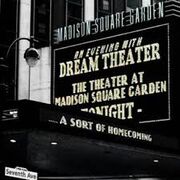 A Sort of Homecoming
is the ninth fan club CD by
Dream Theater
, released in 2004. It was the final release by the
DTIFC
before it disbanded, though it has been replaced by
Voices UK
. The album contains live tracks from the tour to support
Train of Thought
.
Personnel
Edit
Tracklist
Edit
1. NYC Radio Ad 1:01
2. As I Am (Petrucci) 7:10
3. Honor Thy Father (Portnoy) 9:57
4. Caught in a Web (Petrucci, LaBrie) 3:44
5. Mike Portnoy Drum Duet with Scott Rockenfield (Instrumental) 7:35
6. Beyond This Life Improv Jam (Instrumental) 11:07
7. The Oakdale Odyssey (Instrumental) 5:42
8. The Spirit of St. Louis (Instrumental) 6:17
9. John Petrucci Guitar Spot (Instrumental) 3:27
10. Vacant (LaBrie) 2:35
11. Stream of Consciousness (Instrumental) 11:02
12. Disappear (LaBrie) 6:10
Ad blocker interference detected!
Wikia is a free-to-use site that makes money from advertising. We have a modified experience for viewers using ad blockers

Wikia is not accessible if you've made further modifications. Remove the custom ad blocker rule(s) and the page will load as expected.