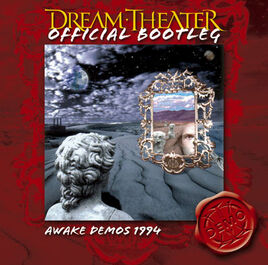 Awake Demos 1994
is a collection of demos by
Dream Theater
of songs from the album
Awake
. It was released by
Mike Portnoy
on his
YtseJam Records
label. Unlike previously released demo collections, no instrumental versions of the songs are included, and the song
Eve
is notably absent, as well as several other demos.
Personnel
Edit
Tracklist
Edit
1. Scarred (Petrucci) 11:17
2. 6:00 (Moore) 5:31
3. The Mirror (Portnoy) 10:15
4. Caught in a Web (Petrucci, LaBrie) 5:46
5. Erotomania (Instrumental) 6:33
6. Voices (Petrucci) 9:31
7. The Silent Man (Petrucci) 3:47
8. Lie (Moore) 5:04
9. Lifting Shadows Off a Dream (Myung) 6:14
10. Innocence Faded (Petrucci) 5:43
11. Space-Dye Vest (Moore) 7:19
Ad blocker interference detected!
Wikia is a free-to-use site that makes money from advertising. We have a modified experience for viewers using ad blockers

Wikia is not accessible if you've made further modifications. Remove the custom ad blocker rule(s) and the page will load as expected.