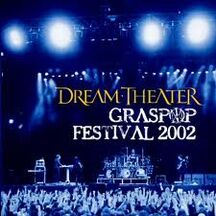 Graspop Festival 2002
is the eighth fan club CD by
Dream Theater
, released in 2003. The album includes Dream Theater's complete set at The Graspop Festival, a yearly metal music festival. Due to the nature of the festival, Dream Theater played mostly their heavier songs.
Personnel
Edit
Tracklist
Edit
1. The Glass Prison (Portnoy) 14:26
2. The Mirror (Portnoy) 6:56
3. Lie (Moore) 6:47
4. Peruvian Skies (Petrucci) 6:53
5. War Inside My Head (Portnoy) 2:03
6. The Test That Stumped Them All (Portnoy) 4:56
7. The Great Debate (Petrucci) 13:29
8. Scene Six: Home (Portnoy) 11:11
9. Pull Me Under/Master of Puppets (Moore/Metallica) 10:25
Ad blocker interference detected!
Wikia is a free-to-use site that makes money from advertising. We have a modified experience for viewers using ad blockers

Wikia is not accessible if you've made further modifications. Remove the custom ad blocker rule(s) and the page will load as expected.