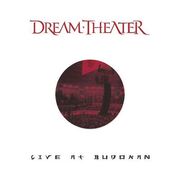 Live at Budokan is the fourth live album by Dream Theater released on September 5, 2004. It is also available on DVD. The album is notable for the venue it was recorded at, the Nippon Budokan Hall, where many famous acts had recorded live albums previously.
Personnel
Edit
Tracklist
Edit
Disc One
Edit
1. As I Am (Petrucci) 7:25
2. This Dying Soul (Portnoy) 11:44
3. Beyond This Life (Petrucci) 19:37
4. Hollow Years (Petrucci) 9:18
5. War Inside My Head (Portnoy) 2:22
6. The Test That Stumped Them All (Portnoy) 5:00
Disc Two
Edit
1. Endless Sacrifice (Petrucci) 11:18
2. Instrumedley (Instrumental) 12:15
3. Trial of Tears (Myung) 13:49
4. New Millenium (Portnoy) 8:01
5. Jordan Rudess Keyboard Solo (Instrumental) 3:58
6. Only a Matter of Time (Moore) 7:21
Disc Three
Edit
1. Goodnight Kiss (Portnoy) 6:16
2. Solitary Shell (Petrucci) 5:58
3. Stream of Consciousness (Instrumental) 10:54
4. Disappear (LaBrie) 5:56
5. Pull Me Under (Moore) 8:38
6. In the Name of God (Petrucci) 15:49
Ad blocker interference detected!
Wikia is a free-to-use site that makes money from advertising. We have a modified experience for viewers using ad blockers

Wikia is not accessible if you've made further modifications. Remove the custom ad blocker rule(s) and the page will load as expected.