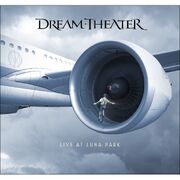 Live at Luna Park
is the sixth live album by
Dream Theater
, recorded on 19th and 20th of August, 2012 at Luna Park Stadium in Buenos Aires, Argentina during
A Dramatic Tour of Events
. It is the first live release to feature drummer
Mike Mangini
since
Mike Portnoy
's departure in 2010. The album was released on November 5th, 2013, available on Blu-Ray, a two DVD set, a two DVD set with three audio CDs, Blu-Ray with 3 CDs, Blu-Ray plus two DVD combo with 3 CDs, a Deluxe Edition with a 40-page book, and Blu-Ray with 3 CDs and a 2 DVD combo with a Digital Video via iTunes. The album is also available on iTunes. The DVD Blu-Ray features a documentary and well as behind the scenes footage. 
Four of the songs were performed with a string quartet arranged by Eren Basbug, those songs are Beneath the Surface, Far from Heaven, The Silent Man (song) and Wait for Sleep.
Personnel
Edit
Reception
Edit
Live at Luna Park was received very well by critics, gaining 5 starts on Dangerdog reviews, and PopMatters described the band as "reinvigorated, revitalized, and ready. It sold around 6,600 copies in the United States in its first week of release, and the album reached #1 on the Soundscan music DVD chart.
Tracklist
Edit
Disc One
Edit
1. Bridges in the Sky (Petrucci) 11:00
2. 6:00 (Moore) 5:55
3. The Dark Eternal Night (Petrucci) 10:10
4. This is the Life (Petrucci) 7:02
5. The Root of All Evil (Portnoy) 9:30
6. Lost Not Forgotten (Petrucci) 9:58
7. Drum Solo (instrumental) 6:19
8. A Fortune in Lies (Petrucci) 5:20
9. The Silent Man (Petrucci) 4:16
10. Beneath the Surface (Petrucci) 5:29
Disc Two
Edit
1. Outcry (Petrucci) 11:31
2. Piano Solo (instrumental) 3:05
3. Surrounded (Moore) 6:05
4. On the Backs of Angels (Petrucci) 8:32
5. War Inside My Head (Portnoy) 2:15
6. The Test That Stumped Them All (Portnoy) 4:55
7. Guitar Solo (instrumental) 8:39
8. The Spirit Carries On (Petrucci) 7:54
9. Breaking All Illusions (Myung, Petrucci) 12:44
10. Metropolis Pt. 1 (Petrucci) 12:46
Disc Three
Edit
1. These Walls (Petrucci) 7:28
2. Build Me Up, Break Me Down (Petrucci) 7:04
3. Caught in a Web (Labrie, Petrucci) 5:42
4. Wait for Sleep (Moore) 2:52
5. Far from Heaven (LaBrie) 4:07
6. Pull Me Under (Moore) 8:31