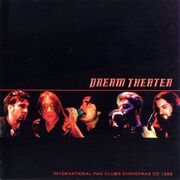 Once in a LIVEtime Outtakes
is the third fan club CD by
Dream Theater
, released in 1998. The album contains unused tracks from the Paris shows that became
Once in a LIVEtime
, mostly including the cover songs and b-sides the band did.
Personnel
Edit
Tracklist
Edit
1. Eve (Instrumental) 4:25
2. Speak to Me (LaBrie) 6:12
3. Lifting Shadows Off a Dream (Myung) 7:10
4. Hey You (Pink Floyd) 4:31
5. The Silent Man (Petrucci) 5:06
6. Cover My Eyes (Petrucci) 4:33
7. Mean Street (Van Halen) 1:28
8. Goodbye Yellow Brick Road (Elton John) 3:09
9. Anna Lee (LaBrie) 6:32
10. To Live Forever (Petrucci, Moore) 7:32
11. Thank You's 3:23
12. Bad (U2) 6:06
Ad blocker interference detected!
Wikia is a free-to-use site that makes money from advertising. We have a modified experience for viewers using ad blockers

Wikia is not accessible if you've made further modifications. Remove the custom ad blocker rule(s) and the page will load as expected.