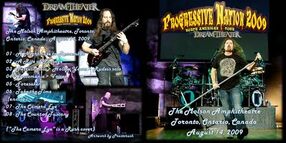 Progressive Nation 2008
is the 11th fan club CD by
Dream Theater
, released in 2008. It is the 2nd fan club CD to be released by
Voices UK
. The CD contains various performances from the first
Progressive Nation
tour.
Personnel
Edit
Tracklist
Edit
1. Intro 1:26
2. Also Sprach Zarathustra (instrumental) 1:32
3. In The Presence of Enemies: The Heretic and the Dark Master Pt 1 (Petrucci) 8:54
4. Beyond This Life (Petrucci) 11:14
5. Misunderstood (Petrucci) 8:21
6. Erotomania (Instrumental) 7:08
7. Voices (Petrucci) 10:03
8. Repentance (Portnoy) 10:43
9. The Dark Nintendo Night (Instrumental) 2:57
10 Encore Medley (Petrucci, Myung, Portnoy) 15:00
Ad blocker interference detected!
Wikia is a free-to-use site that makes money from advertising. We have a modified experience for viewers using ad blockers

Wikia is not accessible if you've made further modifications. Remove the custom ad blocker rule(s) and the page will load as expected.