'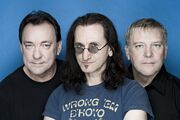 '
Rush
is a Canadian progressive / hard rock band that have been known to heavily influence the progressive metal band
Dream Theater
. So much, in fact, that they have covered several songs from them, such as "Tears", "
YYZ
" and "
A Passage to Bangkok
", which have been played live on occasions (i.e, playing the song at the Toronto Massey Hall in 2004, respectively.)
It was also Drummer Mike Portnoy who came up with Dream Theater's original name, "Majesty", while waiting in line for tickets to a Rush concert, while they were also listening to the band on a Radio. He said that while the were listening to their classic song "Bastille Day", he commented around the conclusion of the song that their music was "majestic". It was then decided that they would go as Majesty.
Ad blocker interference detected!
Wikia is a free-to-use site that makes money from advertising. We have a modified experience for viewers using ad blockers

Wikia is not accessible if you've made further modifications. Remove the custom ad blocker rule(s) and the page will load as expected.