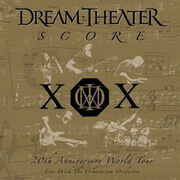 Score is the fifth live album by Dream Theater, released on August 29, 2006. It is also available on DVD. Score chronicles the band's 20th anniversary show at Radio City Music Hall and is notable for the band being joined on stage by a full orchestra for the second half of the show.
Personnel
Edit
Octavarium Orchestra
Edit
Conductor
Violins
Elena Barere - (Concertmistress)
Yuri Vodovos
Belinda Whitney
Avril Brown
Katherine Livolsi
Abe Appleman
Joyce Hammann
Karen Karlsrud
Ann Leathers
Ricky Sortomme
Jan Mullen
Carol Pool
Violas
Vincent Lionti
Adria Benjamin
Judy Witmer
Crystal Garner
Jonathan Dinklage
Cellos
Richard Locker
Eugene Moye
David Heiss
Caryl Paisner
French Horn
Bob Carlisle
Dan Culpepper
Larry DiBello
Bass Trombone
Flute
B Flat Clarinet
Trumpet
Percussion
Tracklist
Edit
Disc One
Edit
1. The Root of All Evil (Portnoy) 8:22
2. I Walk Beside You (Petrucci) 4:11
3. Another Won (Petrucci) 5:22
4. Afterlife (Dominici) 5:56
5. Under a Glass Moon (Petrucci) 7:29
6. Innocence Faded (Petrucci) 5:36
7. Raise the Knife (Portnoy) 11:43
8. The Spirit Carries On (Petrucci) 9:46
Disc Two
Edit
1. Six Degrees of Inner Turbulence (Portnoy, Petrucci) 41:33
2. Vacant (LaBrie) 3:01
3. The Answer Lies Within (Petrucci) 5:36
4. Sacrificed Sons (LaBrie) 10:38
Disc Three
Edit
1. Octavarium (LaBrie, Petrucci, Portnoy) 27:16
2. Metropolis (Petrucci) 10:39
Ad blocker interference detected!
Wikia is a free-to-use site that makes money from advertising. We have a modified experience for viewers using ad blockers

Wikia is not accessible if you've made further modifications. Remove the custom ad blocker rule(s) and the page will load as expected.