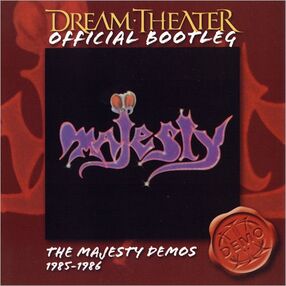 The Majesty Demos 1985-1986
is a tape created by
Dream Theater
in their early days when they went by the name "Majesty". The demos were pressed onto cassettes and distributed at shows and sent out to various music press. The demos were also copied and distributed eagerly by fans, eventually also being availalbe on CD. In 2003, Portnoy released an official version of The Majesty Demos through
YtseJam Records
, which contained many other tracks recorded during that time, as well as the original six tracks.
Personnel
Edit
Tracklist
Edit
Original 1986 Demo
Edit
2003 YtseJam Re-Release
Edit
Particle E. Motion (Instrumental) 1:38
Another Won (Instrumental) 5:26
The Saurus (Instrumental) 1:23
Cry For Freedom (Instrumental) 6:31
The School Song (Instrumental) 6:12
YYZ (Rush) 4:03
The Farandole (Traditional) 3:16
Two Far (Instrumental) 5:40
Anti-Procrastination Song (Stormtroopers of Death) 0:13
Your Majesty (Instrumental) 3:56
I'm About to Faint Song 0:09
Mosquitos In Harmony Song 0:12
John Thinks He's Randy Song 0:10
Mike Thinks He's Dee Dee Ramone Introducing a Song Song 0:16
John Thinks He's Yngwie Song 0:15
Gnos Sdrawkcab 0:23
Another Won (Petrucci) 5:27
Your Majesty (Lyricist Unknown) 3:56
A Vision (Moore) 11:24
Two Far (Moore) 5:25
Vital Star (Moore) 5:44
March of the Tyrant (Petrucci) 5:34
Ad blocker interference detected!
Wikia is a free-to-use site that makes money from advertising. We have a modified experience for viewers using ad blockers

Wikia is not accessible if you've made further modifications. Remove the custom ad blocker rule(s) and the page will load as expected.